main page
news
news
"meteor-m" corresponds to the american and european analogues and even surpasses them in an equipment set
"Meteor-M" corresponds to the American and European analogues and even surpasses them in an equipment set. / September 14, 2009 /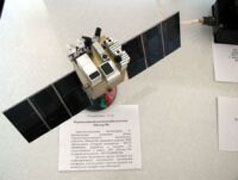 The representative of the customer has told about great value for Russia of a conclusion to an orbit of new meteorological satellite «Meteor-M» the stats-secretary – a deputy head of Roskosmos Valery Nikolaevich Djadjuchenko:
— We are today in high spirits because the stage of preparation for the important event – to the beginning of restoration of domestic meteorological grouping of companions at new technological level which corresponds to the international standards comes to an end. The signal from it will be accepted by all countries of the world, and the transferred information will correspond to requirements of the World meteorological organisation, — V.N.Djadjuchenko has told.
Forthcoming start, — it continued, is a great occasion. It means restoration by Russia of the status of power which participates in the international division of labour on supervision of the Earth from space. Meteorological companions are a basis of this system.

The international public, and also many ministries and the departments receiving the satellite information from Roskosmos, wait for this start as it will give the chance to us of qualitative definition of weather forecasts, acts of nature, studying of a condition of atmosphere, a surface of a land and sea water areas. We will have an opportunity better to observe technogenic failures for definition of their scale and consequences. Today in some measure we can receive such information from foreign companions. But we understand that it is necessary to have the grouping.
On an example of «Meteor-M» we see that our space-rocket industry possesses the big scientific and technical and industrial potential. Reached at creation of the companion level of domestic technologies, quality of the information, resolution of devices – correspond foreign, and in a set of equipment «Meteor-M» even surpasses the American and European analogues. I would like to thank Roskosmos that in our hard time we do such break, – V.N.Djadjuchenko has told.

We prepare second «Meteor-M», – the representative of the customer has continued. – we will improve this system and to support it at the international level. According to the Federal space program for 2006-2015 the grouping will consist of three companions in a sun-synchronous orbit and three – on geostationary. But it in the future for now we will wish our rocket to fly up and gently to inform precious cargo for the country into an orbit.

The Russian Space Department Press-service.