main page
news
space news
exomars-2016 mission trajectory second correction
ExoMars-2016 Mission Trajectory Second Correction. / August 11, 2016 /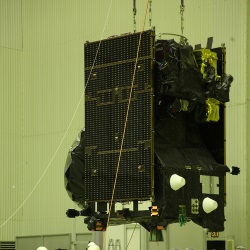 On 11 August 2016, the Russian-European ExoMars-2016 Mission spacecraft completed the second planned trajectory correction. The maneuver lasted 155 seconds after engine burn at 12:30 MSK that changed the craft's direction and velocity. When turning, the high-speed communication links with the spacecraft were off for proper orientation and engine operation and the maneuver was controlled by low-speed radio link. At 12:57 MSK, the fast data links started working again for telemetry and new trajectory analysis.
The maneuver was conducted in addition to the first critical correction on 28 July 2016 during which the spacecraft's engine firing lasted 52 minutes. The maneuver is tasked with the placing of Trace Gas Orbiter (TGO) /Schiaparelli into the Mars high-elliptical orbit on October 19, 2016.
This week, the team of the ExoMars-2016 Mission Flight Control Center will test the fail-safety mode to secure the correct engine operation during the spacecraft injection into the Mars orbit. The flight program also provides for a small adjustment of flight parameters on 19 September and the last correction scheduled for 14 October before the Schiaparelli descent module separation. The purpose is to target Schiaparelli to the Martian atmosphere entry point.
The Euro-Russian ExoMars-2016 Mission started with the launch of the Proton carrier rocket with the spacecraft consisting of the TGO orbital module and Schiaparelli entry descent demonstrator module on March 14, 2016 from the Baikonur Cosmodrome.
When arriving at the Martian orbit, the Orbiter including the Russian scientific payload, will perform observations of the Martian atmosphere searching the evidence of gases such as methane. On 19 October 2016, Schiaparelli will test the technology for controlled landing on the surface of Mars. During its short six-minute descent, Schiaparelli will carry out several ecological studies. The module will obtain the first measurements of electric fields which combined with the measurements of the concentration of atmospheric dust will provide new insights into the role of electric forces in dust lifting, the trigger of dust storms.
ROSCOSMOS Press Service