main page
news
space news
russian satellite constellation is sufficient to provide internet services for the whole country
Russian Satellite Constellation is Sufficient to Provide Internet Services for the Whole Country. / April 24, 2009 /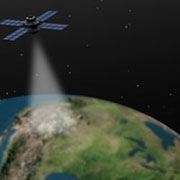 Russian satellite constellation is sufficient to provide internet-services for the territory of the country.
Unfortunately, some mass media published the information that the failure of the Express-AM2 satellite may cause cancellation of the United State Exam due to internet cutoff in some schools of the Altai Republic and Krasnoyarsk region.
Space Communication Federal Entity informs that Express-AM2 off-nominal operation (80 deg. e.l.) can`t impact the Exam, since Space Communication provided this region with back-up satellite services back in 2008. National project `Education` is maintained by the company in proper way.
Express-AM2 failure demanded some updates not only for the Education program, but for some other national projects. On the other hand, Space Communication business reputation and the current situationa shall not be used to justify inactivity of some organiations and companies.