main page
news
space news
express-at2 satellite enters commercial service
Express-AT2 Satellite Enters Commercial Service. / May 29, 2014 /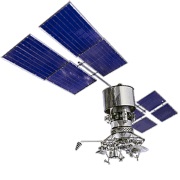 The Express-AT2 telecommunication satellite built by the Academician M.F. Reshetnev Information Satellite Systems has been handed over to the customer for its purposeful using.
Express-AT2 has been positioned at the 140˚ East orbital slot by the ISS-Reshetnev experts following a successful completion of its in-flight tests. In-orbit payload checkouts were carried out at 69.5ºE. A successful completion of in-flight tests and injection of the spacecraft into the operating point of the geostationary orbit enabled its handing over to the customer.
The Express AT2 telecommunication satellite is designed to provide Direct-To-Home TV broadcasting, fixed and mobile communication, data transfer, and a high-speed Internet access. The spacecraft coverage area embracing all of the Far East creates unique conditions for developing TV in this region of Russia.
Express-AT2 was built against the order of the Russian Satellite Communications Company and launched on March 16, 2014. Based on the Express-1000K platform, the spacecraft has a contractual lifetime of 15 years and carries 16 Ku-band transponders.
ROSCOSMOS and ISS-Reshetnev Press Services