main page
news
space news
ila 2014 international air show starts
ILA 2014 International Air Show Starts. / May 20, 2014 /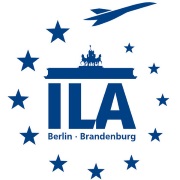 ILA Berlin Air Show 2014 was open on 20 May 2014 in Berlin. The event organizers say the aerospace exhibition will be the most large-scale in its history this year which has lasted already about 105 years.
In 2014, the high technologies in all areas of aviation and aerospace industry are presented by more than 1200 exhibitors from 40 countries including Russia at ILA.
The participation of Russia in the largest international aerospace exhibition became a tradition. During the period 20 — 25 May, the exhibition visitors and participants may visit to the updated ROSCOSMOS exposition which presents the most promising and priority developments of the largest enterprises of the Russian Space Industry: Lavochkin Research and Production Association, TsSKB-Progress, FGUP TsENKI, JSC "NPK "SPP", and JSC "Russian Space Systems".
Among the main exhibits of the Russian stand are the mock-ups of Spektr-UF (World Space Observatort-Ultraviolet), Luna-Glob, Luna-Resurs, Foton-M, and Resurs-P spacecraft, the mock-ups of Soyuz-2 and Soyuz-ST carrier rockets, the mock-up of Fregat upper stage and other samples of innovation developments of the Russian rocket & space technology.
Today, the home exposition was visited by the Federal Space Agency delegation led by Denis V. Lyskov, Secretary of State – Deputy Chief of ROSCOSMOS. D.V. Lyskov and directors of the Russian Space Industry enterprises saw around the mock-ups of the rocket & space technology developments exhibited in the ROSCOSMOS stand. Then the ROSCOSMOS Deputy Chief held a kick-off meeting before the Exposition starting and meetings with the international partners. Among the directors of participating enterprises of the ROSCOSMOS stand, Igor A. Komarov, Director General of the United Rocket and Space Corporation took part in the meeting.
ROSCOSMOS Press Service