main page
news
space news
nasa test-fires rocket with uncertain future
NASA Test-Fires Rocket with Uncertain Future. / September 1, 2010 /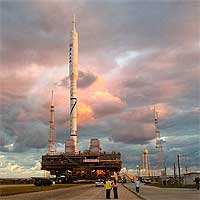 NASA test-fired a new first-stage rocket motor in the Utah desert Tuesday for a rocket that is facing a shaky future.
The space agency and contractor Alliant Techsystems test-fired a longer version of the solid rocket boosters used to launch space shuttles, to see how the rocket motor performs under cold-weather conditions. The rocket was lying on its side during the ground test, belching a huge plume of exhaust into a nearby hillside at ATK's proving ground in Promontory, Utah.
The five-segment rocket motor is one segment longer than those used for NASA shuttles. It was initially designed to serve as the first stage for NASA's planned Ares 1 rocket to launch the Orion spacecraft, as well as part of the larger Ares 5 heavy-lift booster.
Yet those rockets, and NASA's overarching Constellation program to send astronauts back to the moon, will be canceled if President Barack Obama's 2011 budget proposal for NASA is approved by Congress. Orion space capsules are slated to serve as a rescue ship for space station astronauts once NASA's shuttle fleet retires next year.
Lawmakers are divided over the new plan, and the future of the Ares rockets is uncertain as various bills make their way through Congress.
For now, though, work on Constellation programs soldiers on.