main page
news
space news
atv commenced its mission to the iss
ATV Commenced its Mission to the ISS. / February 17, 2011 /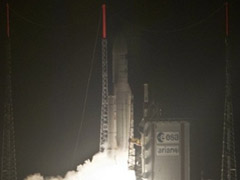 Europe's heaviest-ever payload blasted off into space early in the morning Wednesday. European Space Agency (ESA) launched its latest Automated Transfer Vehicle (ATV) at 00.51 MSK from Europe's Spaceport at Kourou in French Guiana, South America aboard Ariane-5 ECA rocket, Arianespace informed.
The unmanned spaceship is the ESA's first operational ATV and will deliver over seven tons of essential supplies to the International Space Station (ISS). Docking and refueling systems, as well as the system which controls these two are delivered by Russia.
Named after the 17th century German astronomer Johannes Kepler, the ATV is the successor to the «Jules Verne» ATV spacecraft which completed a qualification flight in 2008.
It is scheduled to dock at the ISS eight days after launch, on Feb. 23, at 6.20 p.m. MSK.
It will stay at the ISS until early June when it will be loaded with liquid waste and begin its journey back towards Earth, burning up in the atmosphere over the South Pacific Ocean.