main page
news
space news
russian observatory intended to study the universe reaches the targeted orbit
Russian Observatory Intended to Study the Universe Reaches the Targeted Orbit. / July 19, 2011 /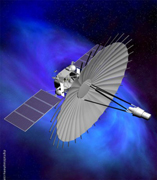 Russian astrophysical observatory Spectrum-R has reached the targeted orbit.
The scientific spacecraft successfully separated from the Fregat-SB upper stage at 10.06 a.m. MSK. Spectrum-R was injected into orbit with altitude of about 340 thousand km.
The launch of Zenith-3M rocket with Fregat-SB upper stage and Spectrum-R occurred from Baikonur's pad 45 on July 18, at 6.31 a.m. MSK.
Spectrum-R, developed under Radioastron project in the framework of Russian Federal Space Program, is intended to study the Universe. The aim of the mission is to use the space telescope to conduct interferometer observations in conjunction with the global ground radio telescope network in order to obtain images, coordinates, motions and evolution of angular structure of different radio emitting objects in the Universe. Scientists also expect to obtain more information about pulsars and interstellar plasma, black holes and neutron stars in the Milky Way. The spacecraft's operational lifetime will be no less than five years.
Spectrum-R was built by Roscosmos' company Lavochkin R&D. Scientific payloads were developed by the Astro Space Center of Russian Academy of Sciences' Lebedev Physical Institute, as well as by international partners.