main page
news
space news
soyuz tma-20 docks with the iss
Soyuz TMA-20 Docks with the ISS. / December 20, 2010 /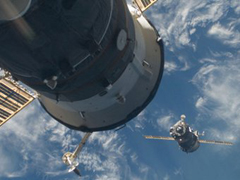 Soyuz TMA-20 successfully docked to the International Space Station at 17.12.2010 11:12 p.m. MSK. The vehicle is now attached to the Rassvet docking port. The rendezvous and docking was in automatic mode, under the control of the MCC experts and the crew.
After leak check of the interface and the compartments, TMA-20 crew – Russian cosmonaut Dmitry Kondratiev, Paolo Nespoli of the European Space Agency and NASA astronaut Catherine Coleman – will join Alexander Kaleri, Oleg Skripochka and Scott Kelly to start the 6-crew stage of increment 26.
ISS-26 commander is NASA's Scott Kelly, who is to be replaced by Dmitry Kondratiev as ISS-27 commander.
Dmitry will command the international crew in April 2011, when the world celebrates 50-th anniversary of Gagarin's space mission.
According to Kondratiev, it's a great honor for him, and great responsibility as well.
"Gagarin's mission is a symbol of the new era in space exploration… Our crew will be on the edge during celebrations in April 2011. All people in the world will be looking at us. Gagarin has set a kind of level in space achievements for us, and it is very important to maintain it", Kondratiev said in his preflight interview.