main page
news
space news
electro-l is fully operational - roscosmos
Electro-L is Fully Operational - Roscosmos. / January 21, 2011 /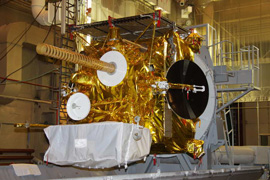 Russian weather satellite Electro-L flown by Zenith yesterday, shows fully nominal operations in orbit, Roscosmos Deputy Head Anatoly Shilov stated.
«We have completed the first series of the testing. The spacecraft is fully operational», Shilov said.
According to him, Electro-L system status was checked right after it reached the targeted orbit this night. Experts confirmed solar array deployment and nominal operations of the satellite.
«Currently, we have two weather satellite in national orbital constellation – Electrol-L and Meteor-M. Electol will help improving weather prediction capabilities", Roscosmos Deputy Head added.
Russian rocket and space industry successfully conducted the first space launch of 2011 on Jan. 20. Zenith-SB rocket lifted off from Baikonur's site 45 at 15.29 MSK.
At 15.37, after separation of the second stage, Fregat-SB upper stage continued injection of the spacecraft. The separation from Fregat occured 00.28 MSK, Jan. 21.
Electro-L will provide weather forecasts, analyze the state of seas and oceans, the condition of the ionosphere and the Earth's magnetic field.
Elektro-L will be filming the entire disk of the planet in visible and infrared ranges. The satellite is expected to work in orbit over 10 years.