main page
news
space news
crew of iss expects «sweet» life
Crew of ISS expects «sweet» life. / July 22, 2009 /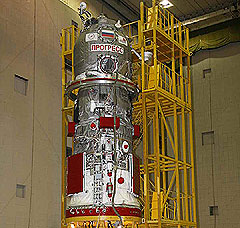 Over the next week an expanded crew of the ISS expects «sweet life» — a cargo ship «Progress», which is scheduled to start Friday, will take into orbit a lot of chocolate.
"To the birthday flight engineer Roman Romanenko, we send gifts and three boxes of chocolate candies on Progress M-67 cargoship — Present famous Moscow confectionery factory «Red October», — said today the head of the Institute of Biomedical Problems emotional involvement group, Russian Academy of Sciences Olga Kozerenko. In addition, Romanenko and commander of the crew of ISS-20 Gennady Padalka found in chocolate and parcels from their families, she explained.

Apart from the sweet gifts, the mood of the youngest of the astronauts working in orbit / Romanenko August 9 will be 38 years old / have to raise his favorite songs. At Horta «truck», he will be DVD-ROM recording of ringing in their order, as well as gifts from psychologists and editorial magazine «News of space.»
New DVD-ROM movies into orbit have decided not to send. Sami asked not to send astronauts to the replenishment of video libraries, explaining his request that the feature and documentary tapes on board the ISS so much that God catch at least part of view ", explained Kozerenko. But with the recent press — the latest issue of magazines «News of space» and "The Russian space — if you want the crew will be able to learn in a few hours of leisure.