main page
news
space news
iss cosmonauts begin pre-eva activities
ISS Cosmonauts Begin Pre-EVA Activities. / December 29, 2010 /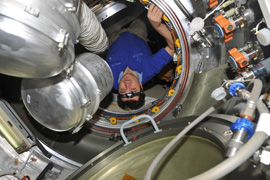 Cosmonaut onboard the International Space Station begin preparations for the EVA to take place on Jan. 21.
The EVA by Oleg Skripohcka and Dmitry Kondratiev has several objectives, including dismounting of the impulse plasma injector from the Zvezda's outer surface, and installation of Russian high-speed data transmission equipment Photon-Gamma intended to study gamma-bursts and optical radiation during thunderstorms.
These days, Kondratiev and Skripochka study the timeline, prepare EVA equipment and check replaceable items in the Orlan-MK space suits.
The third Russian crew member Alexander Kalery runs a set of experiments, including the educational ones. Coulomb Crystal implies study of the charged particles dynamics under magnetic field in microgravity; Shadow Beacon includes UHV-signal acquisition/transmission in the ISS RS beacon mode via world amateur RF network, with the further aim to apply the results in the lab works of the Russian universities.
In addition, Russian cosmonauts continue accommodation of the cargo to be disposed in Progress M-08M. The process was described in details by Dmitry Kondratiev through his photo report published in his blog in Roscosmos web.