main page
news
space news
progress m-22m cargo ship fuelling completes at baikonur
Progress M-22M Cargo Ship Fuelling Completes at Baikonur. / January 27, 2014 /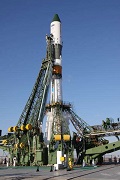 The Progress M-22M cargo ship launch processing is going on at the Baikonur Cosmodrome. On the night between Friday and Saturday, Progress M-22M was transported from the assembly & test building, Pad 254 to fuel station, Pad 31. Yesterday and today morning, the Russian rocket industry's specialist teams have been fueling the ship propulsion system with propellant components. Upon a successful fueling, Progress M-22M was loaded on truck and now the cargo ship is being transported from the fuel station to assembly & test building to continue the tests.
The launch of Soyuz-U carrying Progress M-22M from Baikonur is scheduled for 5 February 2014 at 20:23 Moscow Time.
This launch will commence the implementation of the Russian Space Program in 2014. The spacecraft will deliver more than 2.5 tons of various supplies to the ISS including fuel to maintain the ISS orbit, spare parts for the station, food, water, and oxygen for astronauts, and experiments.
ROSCOSMOS Press Service