main page
news
space news
proton-m pre-launch processing at baikonur
Proton-M Pre-Launch Processing at Baikonur. / September 4, 2014 /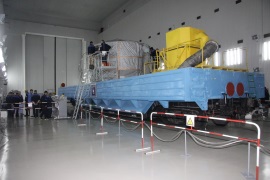 The Proton-M carrier rocket with Breeze-M upper stage and Luch relay satellite is preliminary scheduled for launch on 28 September, 2014. This is the fifth launch with Proton ILV in 2014.
In compliance with the schedule, in assembly & test building, Pad 92-50, the experts from Khrunichev Space Center and other Space Industry enterprises are engaged in autonomous checking of the carrier rocket, upper stage, spacecraft, and payload fairing for further assembly as part of the ILV.
The day before, the Khrunichev Space Center's experts carried out some operations relevant to testing and assembling the carrier rocket blocks and started full-scale tests of the Proton-M three stages. The functional and electrical tests of Breeze-M were completed and the high-pressure tanks were filled with propellant components. The upper stage is in the assembly & test building now and prepared for joining the spacecraft.
At present, the Proton-M pneumatic tests are being carried out in the assembly & test building, Pad 92А-50.
The Luch satellite is designed and manufactured by the JSC Academician M.F. Reshetnev Information Satellite Systems.
Proton-M ILV and Breeze-M are designed and manufactured by the Khrunichev Space Center. Proton-M with Breeze-M is capable of placing the payload weighting more than 6 tons into the geostationary transfer orbit.
ROSCOSMOS Press Service