main page
news
space news
launch preparation of proton-m/luch 5v & kazsat-3 in progress at baikonur
Launch Preparation of Proton-M/Luch 5V & KazSat-3 in Progress at Baikonur. / April 14, 2014 /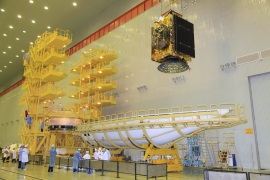 At the Baikonur Cosmodrome an intensive launch preparation of the Proton-M rocket with the Breeze-M upper stage and the cluster of the Russian Luch 5V and Kazakh KazSat-3 satellites is in progress.
Today, in the clean room of the assembly & test building, Pad 92A-50, the ROSCOSMOS expert teams started the upper composite assembly: the KazSat telecommunication satellite has been joined to the Breeze-M upper stage. Now the electrical connections between the satellite and upper stage are being tested. Tomorrow the upper composite assembly will be continued.
The launch of Proton-M/Breeze-M/KazSat&Luch 5V is scheduled for 28 April from launching pad 81 of the Cosmodrome.
Luch 5V will replenish the Russian relay satellite constellation. Luch 5A was lofted on 11 December 2011. Luch 5B was placed in orbit on 3 November 2012. The launch of the Luch 5V satellite will accomplish the Luch orbital system deployment: the Russian relay satellite constellation becomes global enabling the continuous 24-hour data relay from spacecraft to the Russian ground measuring points from those zones where the Russian ground receiving stations are not seen by the domestic satellites.
The KazSat-3 satellite will significantly improve the TV re-transmission, telephony, internet, and data transmission services for customers in Kazakhstan. The KazSat telecommunications satellite is built on the Express-1000N unpressurized platform provided by ISS Reshetnev. Thales Alenia Space is the communication payload supplier. The satellite will carry 28 active Ku-band transponders. The expected lifetime of the satellite is 15 years.
ROSCOSMOS Press Service