main page
news
space news
breeze-m upper stage and proton-m carrier rocket delivered to baikonur cosmodrome
Breeze-M Upper Stage and Proton-M Carrier Rocket Delivered to Baikonur Cosmodrome. / December 23, 2013 /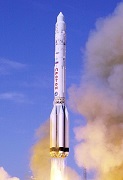 On 19 December, the Polet Airlines' Ruslan transport aircraft landed in the Baikonur Cosmodrome's Yubileiny Airport. It delivered the Breeze-M Upper Stage designed for putting the Turkish Turksat 4 communication satellite into orbit.
Upon completing the customs formalities, Breeze-M was transported to assembly & test building 92A-50 to be prepared for integration with Proton-M.
This morning, Proton-M was transported by railway from the manufacturer Khrunichev State Research and Production Space Center to Baikonur to be used for lofting Turksat 4A.
The contract for launch the Turksat 4A spacecraft built by Mitsubishi Electric (MELCO) was made between the Turksat S.A Turkish satellite operator and International Launch Services. The ILS Incorporation was formed in 1995 in USA. The ILS headquarters are currently in Reston, Virginia. ILS has an exclusive right to the worldwide sale of the Russian Proton heavy carrier rocket. In May 2008, Khrunichev State Research and Production Space Center which is the developer and manufacturer of Proton and Breeze-M, acquired the ILS majority ownership.
Turksat 4A is scheduled for launch in early 2014. For the first time, Proton-M will place into orbit the spacecraft built on the DS-2000 MELCO satellite bus platform. The spacecraft mass is about 3800kg. Turksat 4A will provide telecommunication and direct TV broadcasting service throughout Turkey as well as in Europe, Central Asia, the Middle East and Africa.
Press Services of ROSCOSMOS and Khrunichev State Research and Production Space Center