main page
news
space news
at baikonur work with proton-m carrier rocket begins according to first launch day schedule
At Baikonur Work with Proton-M Carrier Rocket Begins According to First Launch Day Schedule. / December 24, 2013 /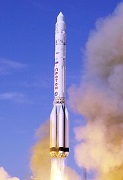 On 23 December at the Baikonur Cosmodrome, the Proton-M launch vehicle with Breeze-M upper stage and Express-AM5 spacecraft were rolled out to the launching complex, Pad 81.
The decision for transportation was made at the State Commission and technicians in charge meeting held day before.
In accordance with the preparation schedule at 6:27 Moscow Time, the rocket arrived at the launching complex and the launching technicians started its setting to the launcher and their works according the first launch day schedule.
The Proton-M/Breeze-M/Express-AM5 is scheduled for launch on 26 December 2013.
Express-AM5 is built and developed by the ISS-Reshetnev Company jointly with its industrial partners. The spacecraft is tasked with providing digital television and radio broadcasting services across Russia, mobile presidential and government communications, multimedia services (telephony, videoconferencing, data transfer, and Internet access) as well as solutions based on VSAT network. Express-AM5 will carry C-, Ku-, Ka- and L-band transponders. The spacecraft has been designed to operate for 15 years and generate no less than 14kW of payload power. Its mass is 3400kg. Express-AM5 is based on the ISS-Reshetnev Express-2000 unified satellite platform.
Press service of ROSCOSMOS