main page
news
space news
proton-m with luch5v and kazsat-3 takes off from baikonur
Proton-M with Luch5V and KazSat-3 takes off from Baikonur. / April 28, 2014 /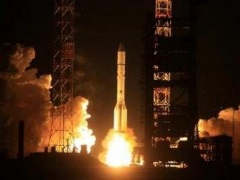 On 28 April 2014 at 8:25 Moscow Time, the Proton-M/Breeze-M rocket with the Russian Luch5V relay satellite and Kazakh KazSat-3 telecommunication satellite was lofted by the Russian Rocket & Space Industry launching teams from Launch Pad 81 at the Bikonur Cosmodrome.
Upon the separation of the third stage, Breeze-M/ KazSat&Luch 5V continue their autonomous mission. The further injection of the spacecraft into the target orbit is by the upper stage propulsion system.
The estimated separation time of Luch5V is 17:17 Moscow Time and of KazSat3 is 17:57 Moscow Time, 28 April 2014.
Luch 5V is the third and final satellite comprising the Luch Multifunction Data Relay System being constructed under the Russian Federal Space Program for 2006-2015. The Luch System is designed for providing communication of the ISS Russian Segment, spacecraft in lower orbits, carrier rockets, and upper stages with ground stations. The first two satellites of Luch series were successfully launched in December 2011 and in November 2012.
The KazSat3 telecommunication satellite is designed for providing Direct-to-Home television services, broadband services, VSAT communication services for commercial customers, and voice, data and video communication services for customers in Kazakhstan and surrounding regions. The satellite was designed and built under the contract with «Republican Center of Space Communication» JSC (Republic of Kazakhstan) within the framework of Project on Developing of National Space Communication and Broadcasting System of the Republic of Kazakhstan.
The both spacecraft (Luch 5V and KazSat3) were designed and manufactured by JSC "Academician M.F. Reshetnev "Information Satellite Systems".
ROSCOSMOS Press Service