main page
news
space news
baikonur's pad 81 launch complex prepared for proton launch
Baikonur's Pad 81 Launch Complex Prepared for Proton Launch. / November 6, 2014 /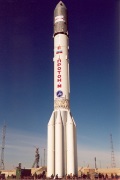 The Proton-M heavy carrier rocket is being prepared for launch at Baikonur.
Today, the launching teams of Yuzhny Space Center, TsENKI Division started preparing the launching complex, Pad 81 of the Baikonur Cosmodrome to receive Proton-M ILV/Breeze-M upper stage/Russian Yamal-401 communication satellite.
Simultaneously, the pre-launch processing of the Proton-M ILV with Breeze-M upper stage and European Astra 2G communication satellite takes place at the launch complex, Pad 81 of Baikonur.
In the assembly & test building, Pad 92A-50 the specialists of the Russian Space Industry are currently carrying out the autonomous work with Proton-M/Breeze-M to be used for placing into orbit the European Astra 2G satellite. In the clean rooms of the same assembly & test building, Astra 2G is being prepared by the foreign experts and the works with Yamal-401 are being carried out by the experts from the Reshetnev Information and Satellite Systems Company and Yuzhny Space Center.
Astra 2G and Yamal-401 are scheduled for launch from Baikonur on 28 November, and on 12 December 2014 respectively.
The JSC "Academician M.F. Reshetnev "Information Satellite Systems" is the leading enterprise of the Russian Space Industry. The company owns the latest technology to perform a complete satellite manufacturing cycle including satellite design and control in all orbits – from low circular to geostationary. The company has participated in more than 30 space programs relevant to communication, TV relaying, navigation, geodesy, and scientific investigations. It has designed, manufactured and launched over 50 different types of highly reliable LEO, MEO, HEO, and GSO spacecraft.
The Khrunichev State Research and Production Space Center is one of the leaders in developing and implementing new space technologies both in Russia and in international space market. The Proton carrier rocket modernization, creation of the Rokot carrier rocket, the Angara family launch vehicles, the Breeze M, Breeze KM, and 12 KRB upper stages, co-operation and implementation of the international projects International Launch Services and Eurockot, the International Space Station, Kazsat and Baiterek, and cooperation with India, South Korea and other countries allowed for Khrunichev to enter the world market of launching services.
The main line of TsENKI activity are the following:
— Operation of the Baikonur Cosmodrome facilities including technical and launch complexes;
— Environmental monitoring and air support of the cosmodrome;
— Scheduling and providing the launches of spacecraft in the interests of national defence and security;
— Contributing to the Russian Federal Space Program and other relevant space programs and international cooperation programs of Russia;
— Supply, storing and preparation of propellant components;
— Selection and preparation of new launch paths and drop zones of rocket stages and jettisoned parts.
ROSCOSMOS Press Service