main page
news
space news
soyuz tma-14m docks successfully with iss
Soyuz TMA-14M Docks Successfully with ISS. / September 26, 2014 /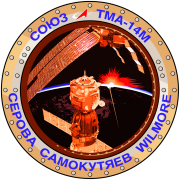 On 26 September 2014 at 06:11 Moscow Time, the Soyuz TMA-14M manned transport spacecraft docked with the International Space Station (ISS).
Soyuz TMA-14M moored at the Mini Research Module Poisk (MIM2) of the Russian ISS segment. The rendezvous was automated and controlled by experts of the Mission Control Center of TSNIIMASH and the spacecraft crew comprising Commander Alexander Samokutyaev, Roscosmos, Flight Engineers Elena Serova, Roscosmos and Barry Wilmore, NASA, and Expedition 41 Commander Max Suraev, Roscosmos.
Upon opening the hatches between the spacecraft and Station, the Expedition 41/42 crew consisting of Commander Max Suraev, Roscosmos, Flight Engineers Alexander Samokutyaev, Roscosmos, Elena Serova, Roscosmos, Reid Wiseman, NASA, Alexander Gerst, ESA, and Barry Wilmore, NASA will begin its mission.
In accordance with the ISS Mission, during the Expedition 41/42, the following tasks are to be fulfilled: operations with the Progress M-24M, Progress M-25M, Progress M-26M, and Europe's ATV-5 «Georges Lemaitre» cargo vehicles, preparation of return of three ISS-40/41 crewmembers to the Earth on board Soyuz TMA-13M, one egress into outer space under the Russian Program, and participation in docking of Soyuz TMA-15M with ISS to Rassvet Research Module.
When in orbit, the new crew is to perform 52 researches and experiments, support of the Station functionality, and complete the ISS equipment.
The crew for ISS-41/42 mission will aboard the Station for 168 days.
ROSCOSMOS Press Service