main page
news
space news
elektro-l2 project work
Elektro-L2 Project Work. / September 11, 2014 /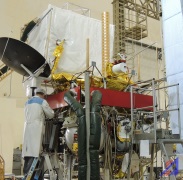 The Elektro-L2 geostationary weather satellite is being constructed by experts from the NPO named after S.A. Lavochkin.
As of today, Elektro-L2 is completely assembled and equipped with standard instruments of the on-board systems except for MSU-GS since its prototype (developed and manufactured by JSC "Russian Space Systems") has been already mounted on the satellite.
Elektro-L2 will carry the upgraded MSU-GS multichannel scanning unit designed for operational hydro-meteorological observation of the Earth from geostationary orbit. На КА The upgrading was done using the experiments with Elektro-L1 and additional requirements of ROSHYDROMET and SRC PLANETA. The MSU-GS will take imagery in all 10 spectral bands simultaneously rather than in different bands sequentially enabling an increased quality of images acquired.
Elektro-L2 is designed for multispectral imaging of the Earth's surface in visible and IR regions (resolution is 1km and 4km respectively) with 30 min revisit period. In case of observing natural disasters, the revisit period may be 10-15 minutes (on ground commands).
Press Services of ROSCOSMOS and NPO Lavochkin