main page
news
space news
baikonur space port: operations with glonass-m satellite
Baikonur Space Port: Operations with Glonass-M Satellite. / November 3, 2010 /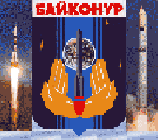 Prelaunch operations with Proton-M rocket/DM upper stage and three Glonass-M navigation satellites began at Baikonur.
Reshetnev ISS and Yuzhny Space Center unloaded the first satellite of the cluster from the container, installed it in the test bench and started integration of the test set-ups.
In parallel, the tanks of the spacecraft propulsion systems are prepared for prop filling. The propellant-loaded tanks are to be attached to the spacecraft later on according to the technology which allows to avoid Glonass transportation to the filling station and back.
groups install solar arrays on the the satellite. The activities are performed in the integration and test facility, site 92А-50.
Proton-M/DM-3 upper stage are scheduled to orbit three Glonass-M navigation satellites on Dec. 5.
Glonass-M satellites are manufactured by Reshetnev Information Satellite Systems company, Siberia. The satellites are aimed at providing global navigation and positioning services.