main page
news
space news
soyuz tma-19 to land on november 26
Soyuz TMA-19 to Land on November 26. / November 19, 2010 /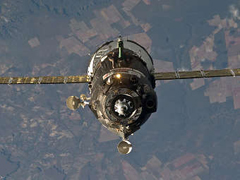 Crew members on the International Space Station will return to Earth early because of an international summit being held near their landing site.
A Russian cosmonaut and two American astronauts and, wrapping up a five-month tour on the space station, are scheduled to land their Russian Soyuz TMA-19 capsule on the central steppes of Kazakhstan on Nov. 26, four days earlier than originally planned. The landing had been set for Nov. 30, but Kazakh officials decided to restrict air traffic before the start of the Organization for Security and Cooperation in Europe summit in Astana, Kazakhstan, set for Dec. 1-2.
Soyuz is to depart from the station at 04:19 MSK (01:19 GMT). The vehicle is to land at 7:46 (04:46 GMT), 84 km away from the city of Arkalyk.
After the departure of NASA astronauts Shannon Walker and Douglas Wheelock and Russian cosmonaut Fyodor Yurchikhin, the space station will be down to a three-person crew until mid-December, when Catherine Coleman, Paolo Nespoli and Dmitri Kondratyev arrive to round out the outpost's Expedition 26 crew.